How to implement custom music and message on hold streams in the Onsip platform.
What is Onsip?
Onsip is an all-in-one voice communications solution for small to medium-sized businesses. The company was founded by Junction Networks in 2004 and today is owned by VoIP phone company Ooma, which reported revenue of $168.9 million for the fiscal year 2021. As a VoIP (Voice over Internet Protocol) communications provider, Onsip offers the features small businesses use every day, such as auto-attendant, extension-to-extension dialing (previously "intercom"), call queue grouping to help handle inbound calls, and remote office-working capabilities. It is also known as a hosted business phone system.
What are my music on hold options in Onsip?
Onsip offers four options for music on hold: silence, "standard MOH" (default music on hold), enhanced streaming using platform-hosted music and enhanced custom streaming hold music. In the Onsip admin portal, you can learn how to set up hold music for your Onsip callers. Standard hold music will be your choice of "jazz", "classical" and "elevator" music. Enhanced streaming music on hold lets you use a stream that originates outside of the Onsip platform, and is available for a fee of $19.95 per month.
How to set up enhanced music on hold on Onsip
Under inbound call settings in your Onsip admin panel, select Music On Hold. Choose Enhanced. Click + Add music stream to enter the URL of the stream you want to use. Onsip recommends "any of over 100,000 Shoutcast/Icecast streams" for your music source, which can be problematic due to licensing regulations. As a professional music on hold licensing company, Easy On Hold recommends against using unlicensed content due to copyright liability.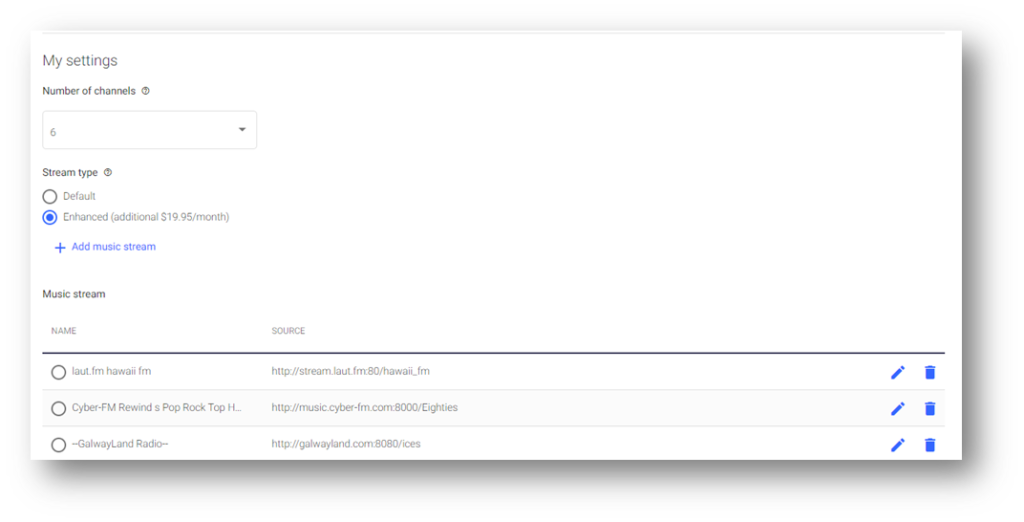 After creating your streaming audio resource, you will need to assign the stream to each user or user group. Under the Users option go to Call Settings, then click Edit Info. Go to Inbound Call Settings>Music On Hold.
Music and messages on hold can help your business thrive
Do you want to use music alone as your hold queue? Music helps callers know they're still connected, and can also help callers formulate a positive image of your brand. In the article on the Onsip blog titled, The Complete Guide to the Best Hold Music for Your Business, author Margaret Joy points out that a mix of music and messages (spoken content) was able to retain callers longer than music alone. Further, 81% of callers thought their time on hold was shorter than it was!
Where do I get the hold music URL for streaming into Onsip?
You may use a custom HTTP URL as your message on hold source in Onsip. This URL will be provided to you by Easy On Hold. The steps to making this happen are:
Explore options at easyonhold.com
Complete a request form at easyonhold.com
Think of 8 topics to be recorded into messages that will keep callers engaged while holding
Obtain URL from your Easy On Hold Content Control Center
Onsip recommends Easy On Hold, confirming that it is a solution that works well with Onsip:
Easy on Hold is another great site, and they even break down how their system works with all types of phones, including VoIP!

Onsip website
Explore Easy On Hold and complete a request form for a free consultation
Go to easyonhold.com and navigate to voiced messages. Need some inspiration? Easy On Hold offers a library of messages on hold for businesses, including health care, assisted living, credit union, dentist, fitness, hospitality, insurance, orthodontics, restaurant, veterinary and other industries.
Think of 8 topics to keep callers engaged
Once you start an account with Easy On Hold, you'll have access to the user control panel, known as the Content Control Center. To get started, Easy On Hold recommends 8 unique topics that will keep callers engaged while waiting on hold. The main thing to remember here is that each individual topic will be made into a 20 to 45 second long audio production, like a radio commercial. Each topic has its own appropriate music background and can be recorded by a male or female voice artist. Why individual topics instead of one 4-minute-long audio track? Because you're able to stream live, dynamic content, each topic can be programmed to play by a start and stop date you choose. Never play out-of-date content on hold ever again!
How to add a message on hold to your stream
To get a new message started, click Add New Message. You'll have a choice of using pre-scripted templates you can customize, or jot down a few ideas for a topic, as shown below.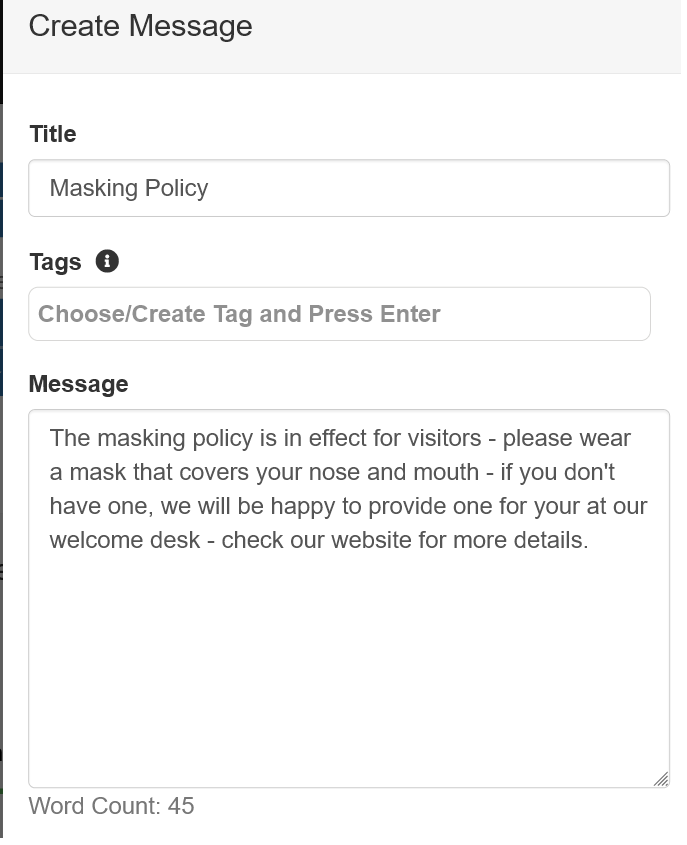 Choose music (you can click and audition hundreds of tracks) and select a male or female voice. There's a place to provide extra details, such as pronunciation. Set a start date and an end date (optional). Before submitting for recording, you may indicate whether you want help from a script writer (included). The scripting takes 3 days or less, as does the audio recording. All topics are managed in your Content Control Center (see below).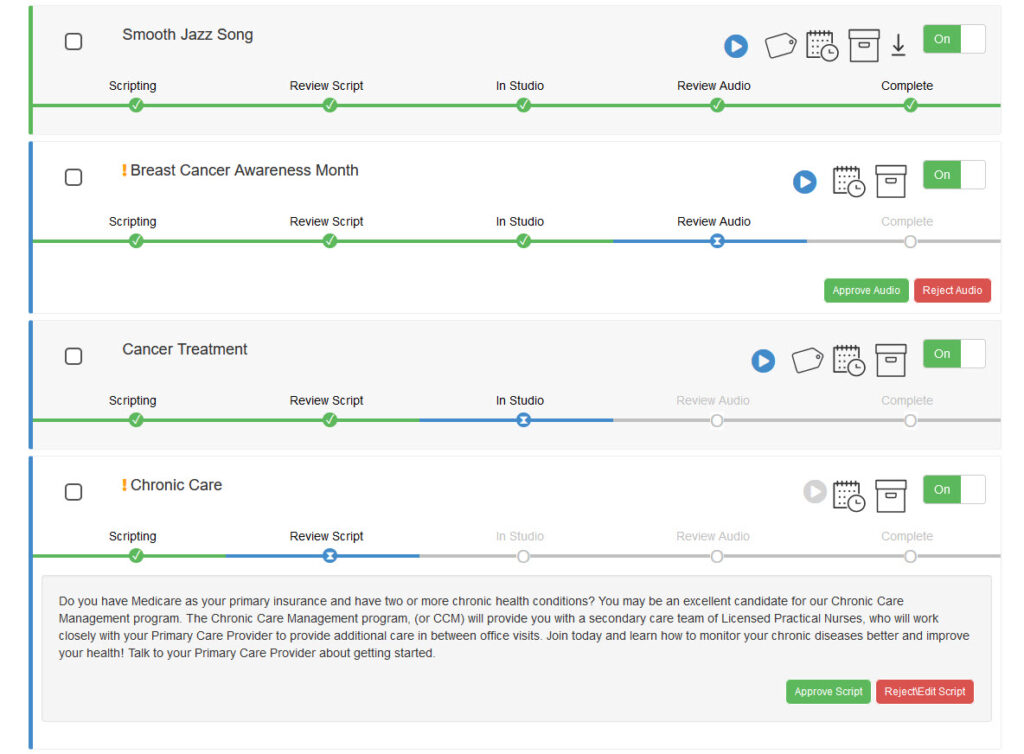 Playing popular hit music on your Onsip stream
You want good music on hold, but what is that? Perhaps you're thinking of a way to play your favorite artists or a music service such as Spotify or Pandora. You may be tempted to use a URL of a Shoutcast or other internet streaming music service. We advise against it because it is likely unlicensed, meaning you could be responsible for fees and fines. Please review the article at brandimusic.com on music licensing for business. Whether for your physical space or phone-on-hold, licensing is a serious matter. The solution is to use a licensed streaming music service, such as Brandi Music, offered through Easy On Hold.
How do I get real music by popular artists on my hold button?
There are 75 channels of music by your favorite popular artists streaming from Easy On Hold. Call centers are discovering this service, which is growing across North America. You can also add announcements between the songs. Imagine your own radio station on hold. This is now possible, with a custom URL to stream on the Onsip platform. What a great time to be in business!