How to avoid huge fines for playing music on hold.
ASCAP, BMI, and other performance rights organizations (PROs) are tasked with collecting performance rights licensing fees on behalf of music publishers. These organizations have been stepping up their collections activity. They want to get paid if you haven't secured hold music licensing through a vendor. But if you receive a collections letter from a music licensing group, how can you tell if it's real or a scam?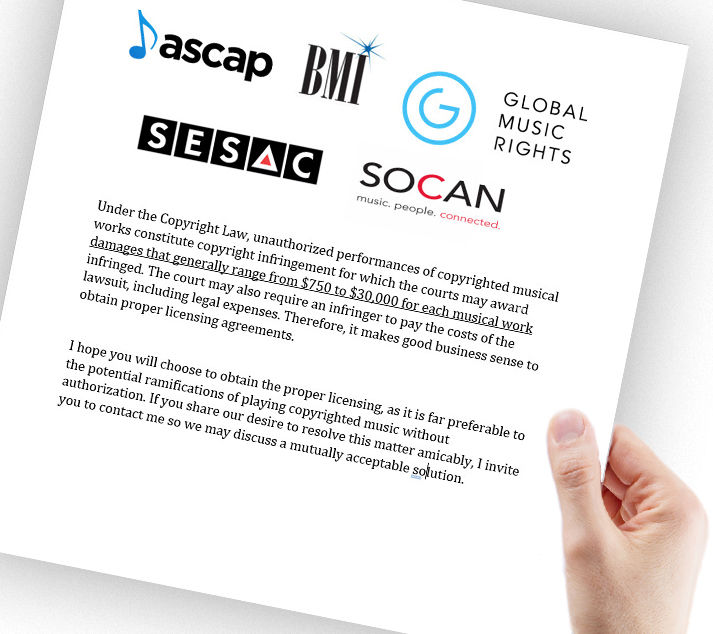 Performance rights organizations, called PROs (ASCAP, BMI, SESAC, GLOBAL MUSIC RIGHTS, SOCAN) have been requesting fees from businesses that are taken by surprise by a collections letter.One business told us, "I am constantly being billed by ASCAP and accruing late charges…" Is it legitimate? In most cases, yes. That is to say, ASCAP and other PROs definitely do ask for licensing fees, whether or not you are using music. They generally make the assumption that you are using music for overhead listening or on your telephone hold button.
Are you properly licensed?
A significant portion of BMI's business is to "educate" and charge — by phone and in person — the hundreds of thousands of businesses across America that don't know or don't care to know that they have to pay for the music they use.

New York Times
Do you need 'hold music licensing'? Yes.
What is legal hold music? Follow the link to learn more!
Legal Hold Music is music on a business phone system for which all licenses required by law have been paid.
"When you place a caller on hold and transmit music via your telephone lines, that is a public performance of the music. It is your responsibility to obtain permission to perform ASCAP songs from ASCAP or directly from the copyright owner. ASCAP represents tens of thousands of copyright owners and millions of songs and an ASCAP license will give you the right to perform them all."

ASCAP
Do you need to pay ASCAP? Not necessarily.
We recommend that you obtain a contract from a music on hold provider like Easy On Hold®,and receive assurance that all applicable music licenses are paid on your behalf.
Do ALL music on hold providers cover my license? Not necessarily.
Some royalty-free music does not cover performance rights, which are the rights you need to play the music on your phone. Royalty-free generally means that the company purchasing the music does not pay ongoing fees for the rights to use the music in their audio and/or video productions.
The myth behind "royalty-free" music
Just because you buy hold music does not mean that you don't owe licensing fees. This is a big myth behind "royalty-free music". Mechanical royalties (the right to copy or manipulate a piece of music) do not automatically include performance royalties (the right to play the music on your phone system). These performance rights are the fees BMI is attempting to collect here.
What about playing a radio station? Is that OK? No.
Radio stations pay to license the music they broadcast. It does not cover music you re-broadcast on your phones. Many times a telephone system technician will hook up a radio for use on hold, knowing that music royalties are "not his problem". Most people using the radio on hold probably are not aware that they're in violation of any laws, in that they assume the radio station has already covered all licensing costs on their end.
How to avoid fines for playing hold music
Obtain a custom on-hold contract from a reputable on hold company to be certain you are using licensed content.
Even with the more powerful marketing potential custom music on hold messages provide, the cost is significantly less than national music services, do-it-yourself solutions, or (gulp) fines and fees.
What if your business gets a letter from ASCAP, BMI, or another PRO?
If you get a letter from one of the performance rights organizations, contact Easy On Hold®. We have ongoing relationships will all licensing organizations and know how to spot an authentic letter. The letter you receive will contain specific information, including a case number we can use to find out what is going on.
It is true that ASCAP sends out letters requesting compliance. And they aren't the only music licensing group out there knocking on doors. BMI is one of the licensing organizations in the U.S., and they're looking to collect fees for playing music in your business.
Rest assured, Easy On Hold® is paying performance fees on behalf of all of our clients. Note also that BMI and ASCAP are both very active in seeking fees and fines. Apparently, licensing organizations do no research prior to contacting a business to request money. Apparently, PROs are randomly calling any business that looks as though they could come up with some form of payment.
Issue resolved
If your business has received a letter demanding payment for the use of music, contact Easy On Hold. One of our customers requested proof of performance rights, which we provided directly to the licensing organization. The response from the client:
"Talked with Julie from Easy On Hold. She provided the document which verifies legitimacy of the license, etc. Thank you for your prompt and courteous support. EOH is one of my favorite vendors."

Theresa
Do you use music in your business space (background music)? You might get "the letter". One retailer in Michigan received a letter requesting a payment of $400,000.
The owner of Leigh's and Mettie's women's clothing stores in Grand Rapids Michigan, Larry Leigh, received a letter from licensing organization ASCAP. The letter stated that the store was in violation of copyright regulations by playing music from CDs in his stores. Larry got the idea to play his own music from the business that installed his store stereo system. Yet, ASCAP sued Leigh's company two years later for the full $400,000. The store's attorney said the chance of winning such a suit is not good, so the matter was settled out of court for $5,000.
Get more information about business music – legal background music for use in your business.