Not all phone systems are "in the cloud". An on-site, or on-premise PBX or Key system is a telephone system that brings all phone extensions to one central control box. At one time, all phone systems worked in this way. The phone equipment was on-site, or on-premise. Many on-premise PBX phone systems require a music on hold device, or player. This article discusses connections required for installation.
Types of on-premise PBX systems
IP-PBX
Due to the availability of high-speed broadband, phone systems have become "IP" based, which stands for "internet protocol". Calls are handled through servers that reside either off-site (off-premise) or on-site (on-premise). The location of these phone servers (also called platforms) can determine how music on hold functions.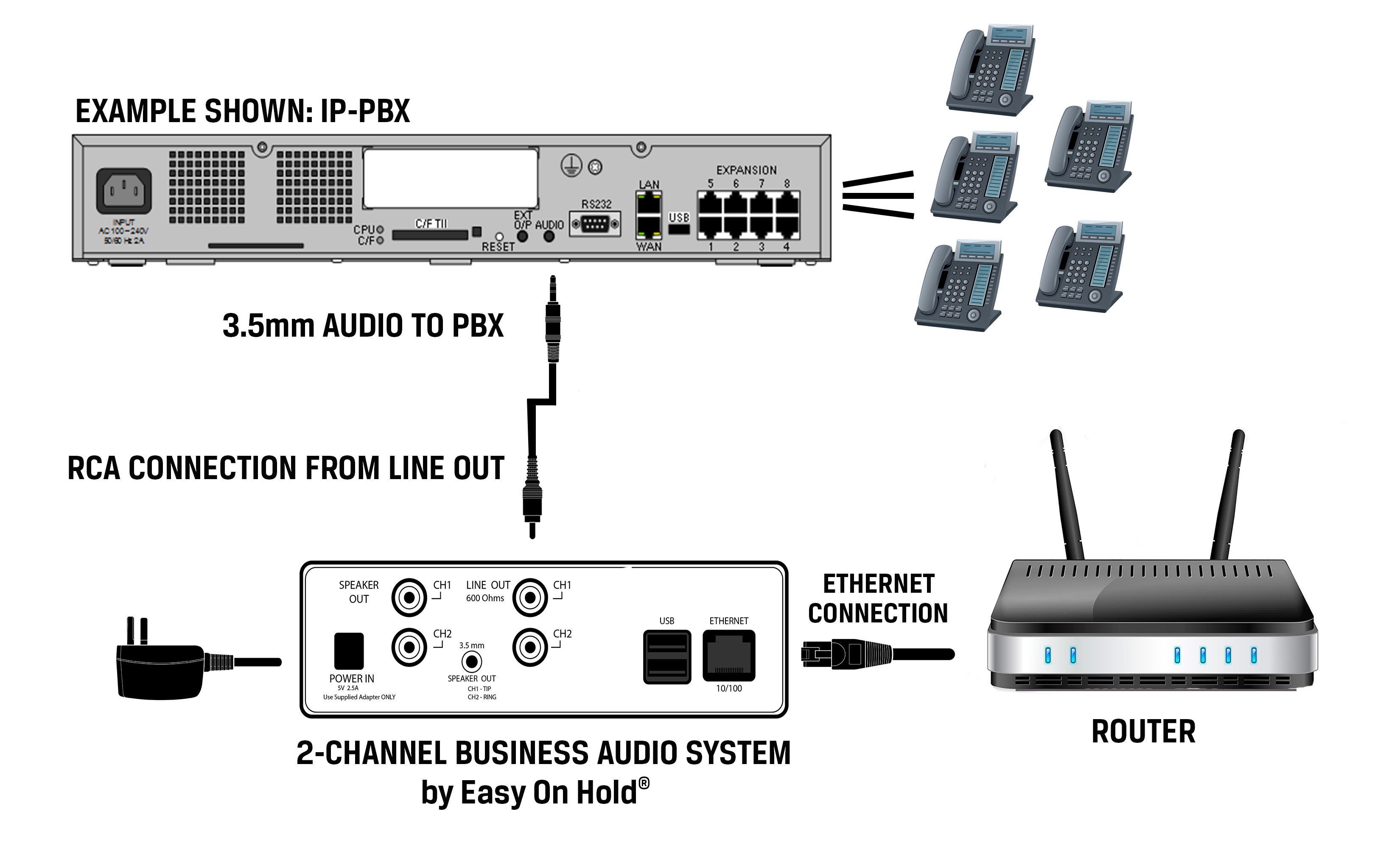 LEGACY PBX
The term PBX stands for "Private Branch Exchange," and it's more than a hundred years old. Larger companies with many phones needed their own on-site switching equipment. The phone company would bring in several phone lines in a "trunk" that would "branch" off within the switch. Thus, a private branch exchange. Over time, the PBX concept remained, though rooms of equipment have been reduced to a small applaince.
Since the phone call switching is being handled on-premise, calls-on-hold remain on-premise, making them accessible for a music on hold system. (On-premise PBX music on hold installation is discussed in this article.)
Digital vs. Audio Cable Connections
On-premise IP-PBX systems may be able to receive audio by embedding a URL (internet streaming audio web address) at the user interface. Some are able to use a digital connection offered by the 2-Channel Business Audio System from Easy On Hold®, which broadcasts audio on an I.P. address (Cisco CUCM and Genesys Pure Engage). Other IP-PBX systems have an audio jack for a wired connection from the 2CBAS device via audio cable.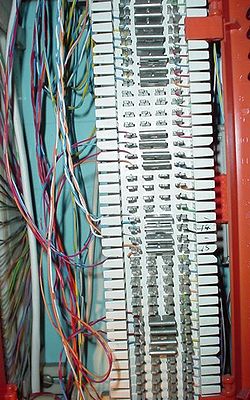 Some connections for on hold Legacy PBX systems with a sound card typically allow music on hold to connect from an audio cable, using either a provided jack on the phone system or on a "punch-down block" connection, requiring a "bare-wire" to be "punched down" to make the on hold music connection.
How to replace the music on hold source if you already have music on hold on your PBX system
Can you hear music on hold now? You may have a device such as a music on hold player providing audio (music and/or messages) through the MOH input into your phone system? Easy On Hold® can supply new audio for use with on hold players that take .mp3 audio.
No connection for an external device? Likely, an internal audio file is loaded into your phone system and serves as the source of the on-hold audio. Easy On Hold® can work with your telephone technician or vendor to be sure that you receive new audio content in the file format that is appropriate for your phone system.
How to replace the music on hold source if you already have silence on your PBX system
Check to see if you have an input on your PBX phone system labeled "MOH" which stands for "music on hold". If you do have an MOH jack, you will need to check to see if it is "active". Most PBX phone systems have three "music on hold states": On – Off – Beep Tone. Your phone system may require programming.
If you do not have an MOH jack, one can be installed by a reputable telephone technician with music on hold experience. In the case of Nortel (Norstar, Meridian) and similar brand phones, often we see that the music on hold jack is not present. Contact a reputable telephone technician are request that a music on hold input be "punched down" or attached to the connection block in your telephone room. If possible, it is always best to speak with the technician or firm that installed your phone system.
Connections by brand
CISCO CUCM: digital IP connection in RTP
Avaya 7.0+ w/Aura MS: URL in HLS
Avaya Office IP Appliance: audio cable
Asterisk: URL in http.mp3
Allworx: audio cable
Genesys Pure Connect: analog audio cable into media server
LEGACY PBX: Connection with audio cable to PBX or punch-down block:
ESI, Shoretel, Nortel, Toshiba, Hitachi, Iwatsu, NEC, Panasonic, Samsung, Mitel
Easy On Hold is not responsible for the performance, installation or operation of equipment we do not sell. Articles about equipment are for educational purposes only and do not constitute an endorsement of any make or brand. Easy On Hold makes no claims or warranties regarding telephone equipment of any kind.