Do I need a technician to install music on hold on my phone system? Often, a technician is not needed to install music on hold, however knowledge of the phone system (or platform) is necessary. This article describes installation on some commonly-used on-premise phone systems. For information about VoIP music on hold, see the article here.
There are many types of phone systems in use today. It used to be that there were two kinds of phone systems. One was the PBX or Key system, typically a box on the wall in your business, in your phone room with all phones connected to it. The other was known as "analog" or "ordinary" (the phones from the office supply store).
Today, business operations have high-speed broadband internet, which provides a pipeline for voice-over-internet calling. In the case of an on-site PBX-IP phone system, equipment is still present on-site at your business, while the voice carries over the internet to the telephone service provider. In this scenario, Easy On Hold will recommend the use of an external player for messaging on hold.
Land-line or analog phone music on hold installation
If you have a small business and would like to give callers the impression of professionalism, this setup might be perfect for your office. The VTech 4-Line Small Business System Main Console (CM18445 – Silver or AM18447 – Black), works with the Easy On Hold® 2 Channel Business Audio System, allowing streaming music and messages on hold that sound just like a major call center. This VTech phone has a place to plug in our message on hold player device, so callers will hear your messages while they wait on hold.
Note: If the user of another extension holds a call while the console is reviewing or recording M.O.H., the far end will hear the double-beep hold tone. Release the hold and hold the call again to apply the M.O.H.
Download the manual:
https://easyonhold.com/knowledgebase/V-Tech-18445-18447.pdf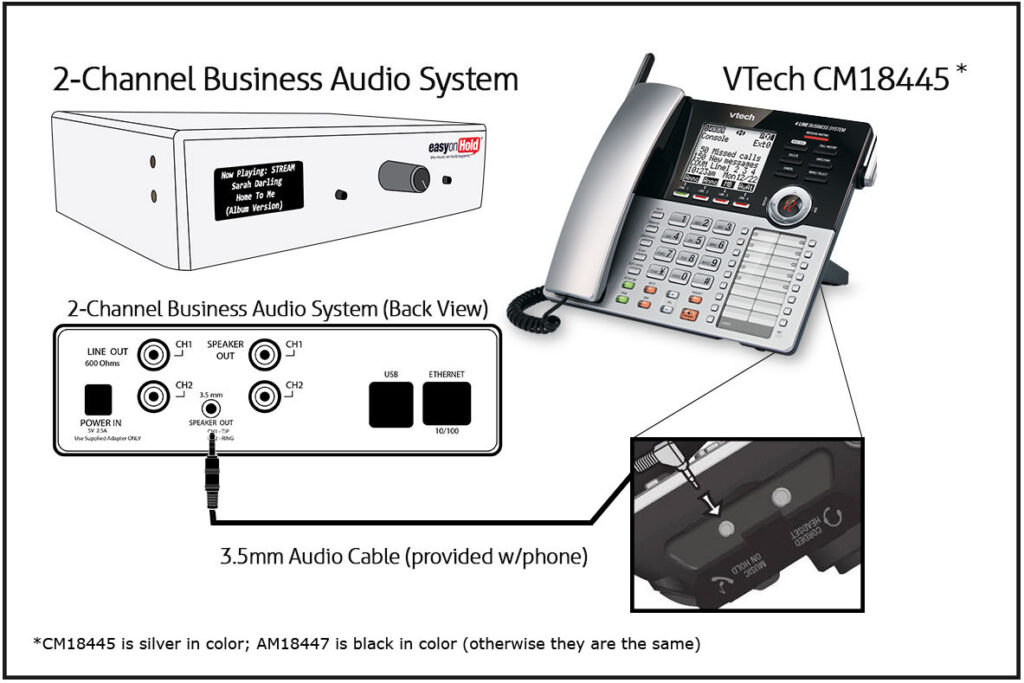 On-premise PBX on hold installation
An on-premise PBX phone system is contained at your business premises. Typically, you will see a box hanging in an equipment room, connected to many wires. Commonly-found PBX systems include Nortel, Merlin, Comdial, Toshiba, and Panasonic, among other manufacturers. The "legacy" phone systems can be PBX or KEY systems (learn the difference from this PC Mag article).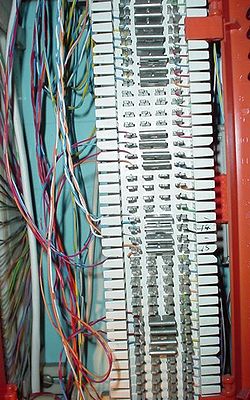 While businesses are quickly moving away from the legacy PBX and KEY systems, some new phone systems are still used on-premise. This provides an opportunity to connect music on hold using an external device.
Some connections for on hold music are made using a "jack" or audio receptacle on the PBX box. Others use a "punch-down block" connection, requiring a "bare-wire" to be "punched down" to make the on hold music connection.
Installing Music On Hold On Comdial PBX, DX-120
The Comdial DX-120 is a commonly-found PBX business phone system. Adding music on hold to this system is not too tricky. Take a look at these instructions, provided by Comdial in their DX-120 Phone System Manual. This article digs into terms and instructions found in the Comdial system manual, and also provides hints and tips for making your music on hold messages installation go smoothly.
Connect Music On Hold Player To Samsung iDCS
This article describes connecting a professional music on hold player to an MOH input on a Samsung iDCS Series 100/500 Phone system. Do you have a SAMSUNG iDCS Series Phone System? Don't want to hear "Old Folks At Home" music on hold? No, we're serious, Samsung actually thought it would be great for callers to hear a beepy version of Old Folks At Home, the 1851 Stephen Foster song also known as Swanee River. Quick! Read this. Here are some installation tips to help you install custom music on hold messaging, based on instructions published by Samsung.
Nortel Legacy PBX Music On Hold
This report covers music on hold player connection, working with existing audio cable, adapting audio connection from 3.5 to rca, Nortel System Configuration.