What kind of equipment do I need to play music on hold? Playing music on hold does not always require equipment. However, if you have an on-premise communications platform (or legacy PBX phone system), on hold equipment is needed, specifically, a music on hold device, or player.
For on-premise connections to your phone system, we manufacture the 2 Channel Business Audio System (2CBAS). The 2-CBAS can play a live stream or audio from a USB drive, using an analog audio output.
For a digital connection to your on-premise Cisco CUCM communications system, the 2-Channel Business Music System provides audio on a multicast IP address, in RTP audio format.
2-Channel Business Music Audio System (2CBAS)

Connections
This new device plays music on hold from a stream or .mp3 USB drive. Here are the connections used, depending on your phone system:
Sound Card On Phone System: audio cable from RCA or 3.5mm jack.
CISCO CUCM: digital connection mounted on IP address in RTP 8-bit audio.
Genesys Pure Connect: digital connection mounted on IP address in HLS audio format specifically for the Genesys Pure Connect platform.
The 2CBAS plays custom content on a stream controlled in the client portal. Mainstream music (with optional announcements played at variable intervals) is also available, controlled in the client portal.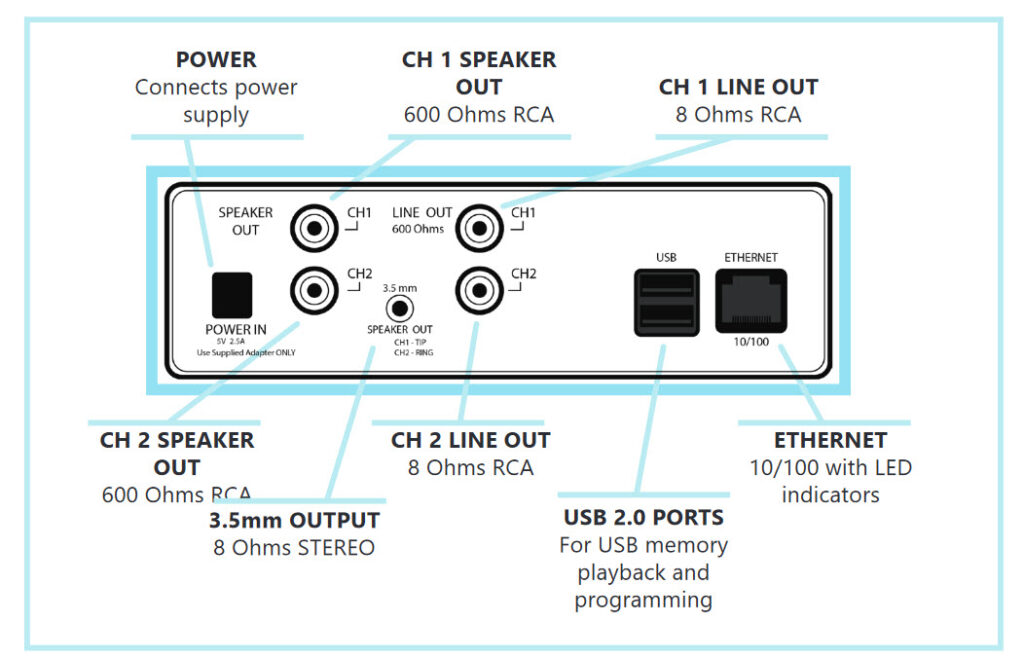 Beware of consumer-grade on hold equipment
iPod, iPad, iPhone, .mp3 player
Since the Apple warranty explicitly states that the iPod, iPad, or iPhone product is not made to be used continuously ("uninterrupted"), any damage from such use is not warranted.
Apple does not warrant that the operation of the product will be uninterrupted or error-free. Apple is not responsible for damage arising from failure to follow instructions relating to the product's use. Power adapters may become warm during normal use, and prolonged contact may cause injury.

Apple.com
Basically, any consumer-grade audio device is not recommended. Problems with these include:
Low-level output may be inadequate. Many consumer products are built to conserve battery power, the audio output is configured for use with high-efficiency headphones. This low-power output is not made to match the impedance of a telephone system.
Consumer products do not restart once they lose power. Commercial devices are made to restart on their own when power is available.
Lithium batteries are not meant for 24/7 charge cycles. A USB Power Adapter can be used, however this can cause overheating.