Let's look at building a background music system for your business. Designing the right system for your retail space requires great forethought because of the many variables involved.
Evaluate your space
There are several characteristics of your retail space that will make a big difference in the design of your background music system, including:
Square footage
Interior or Exterior
Building materials and finishes
Ceiling height
Number of listeners in an area
Number of spaces that require unique programming (zones)
Are there areas where no music should be heard? Consider cashier, ordering or consulting stations as "music free" zones.
Do speakers need to be someone hidden, or should they blend into the aesthetic? Is it OK for the speakers to be noticed?
What will your background music system need to do?
Having a well-designed system can include:
Good sounding background music with the right volumes in the right places
Multiple zones, so different music channels can be played in specific areas
Paging microphone to make system-wide or specific-zone announcements
Wireless microphone for putting on events or workshops
What are the components needed for a background music system?
A typical system requires the following components:
Mixer – To intake the audio sources, such as the Easy On Hold 2-Channel Business Audio System device, which outputs two unique audio channels. The mixer can also provide a place to plug in microphones.
Amplifier – The amp takes the sound from the mixer and sends it to the speakers with the right amount of "juice" to get the volume you need. The amplifier needs to be properly sized for the specific speakers and quantities of speakers in use. Some manufacturers offer a combined mixer/amplifier in a single unit.
Equalizer – An equalizer breaks the audio signal into various frequency "bands" to shape the highs (treble) and lows (bass) of the sound output. Equalization (EQ) can be very helpful in optimizing the system after installation.
Wiring – Many background music systems are based on a 70-Volt signal for efficiency. This allows the use of less amplification over long distances of wire. 70-volt wiring is not the same as the speaker wire we use in our home stereo setups. It's smaller and is purchased in spools.
Volume Controllers – In addition to controlling volume from the amplifier and mixer, you may also want to have access to a volume knob somewhere near the speakers. Sometimes, volume controllers are placed only in locked offices where authorized users can get to them.
Remote Control – Some mixers and amplifiers offer a hand-held remote for convenient sound control.
Paging Microphone – A paging microphone can have controls built-in to isolate paging announcements to various zones. An interface to the mixer may allow store telephones as a paging device.
Wireless Microphone – If you hold special events such as workshops or receptions, a wireless microphone can be very handy. This application, however, will change the demands on your amplifier and speakers, requiring special consideration when designing your system.
What is the size of the sound system needed for my indoor retail space?
With so many variables to consider, we recommend an on-site audio engineer experienced in managing interior audio as an important resource to right-size the sound system. The type and size of the speakers, how the speakers can be mounted, and the power behind the amplifier are all in play.
How much does it cost to install a background music system?
We've all been in places where the background music sounded tinny and distant. In some shopping malls, the music pumps out big bass frequencies. The prices for sound gear can vary immensely. Look for mainstream audio brands, such as JBL, Yamaha, Toa, Crown, Bose, etc. Unknown Chinese systems from Amazon.com usually underperform. Mixers and amplifiers can run between $600 and $900, depending on how many speakers the amp will be driving and the number of zones.
What kind of speakers are recommended?
Speakers can be of several types. Each type is designed to fit your unique needs for mounting and positioning.
Ceiling – Speakers that are recessed into the ceiling. Ceiling mount speakers are recommended for ceilings under 25 feet in height.
Pendant – These are speaker enclosures that hang from the ceiling
Mounted – Self-contained speaker enclosures with mounting brackets for use on columns, posts or walls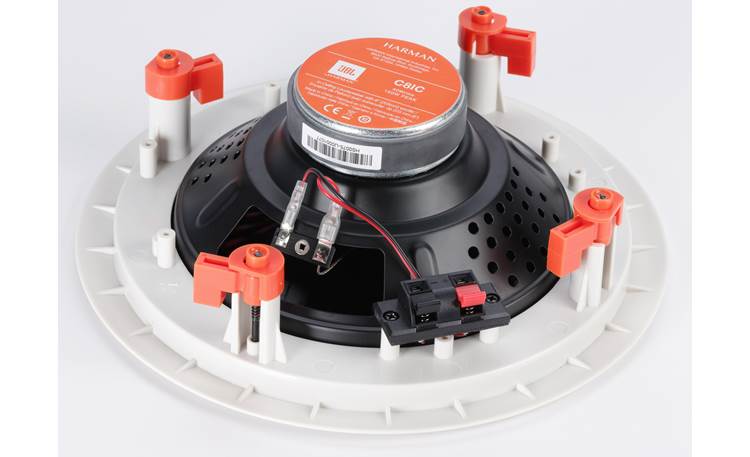 How many speakers are needed?
The formula for calculating the number of mounted speakers (any speaker that does not attach inside the ceiling):
Divide the room's length by 25 feet (the approximate coverage of one speaker). Multiply times 2 for the total number of speakers.
We recommend the ceiling speaker calculator guide provided by professional audio/video company Extron for ceiling-mounted speakers.
We recommend that you consult an onsite audio engineer.
Choosing the right music
See our knowledgebase article on choosing the right music for your business.