Using your Easy On Hold + Brandi Music streaming business account with TuneIn Radio to play through your Sonos speakers.
Sonos is one of several high-quality Wi-Fi speaker brands that provide great sound without speaker wires. You may be using (or might try) Sonos speakers for background music in your retail store, restaurant, office, etc. There's a proven way to integrate your custom Easy On Hold + Brandi Music business music stream (Streaming Business Music) on Sonos Speakers.
After connecting your Brandi background music stream to TuneIn, and then TuneIn to Sonos, you'll have what you need to hear licensed music in your business at any time.
What you will need
Sonos Wi-Fi speakers, on and connected to your Wi-Fi network
Sonos S2 app which lets you control your Sonos system
TuneIn app and account
Easy On Hold + Brandi Music streaming URL
Where to get what you need
Sonos speaker and mount; Sonos S2 app
Sonos speakers are widely available. For many situations, one or several Sonos One speakers are small, yet good-sounding speakers that can be mounted. Choose a dark or light color option to make the speaker less conspicuous in your setting. Learn how to set up your Sonos One from the Sonos website.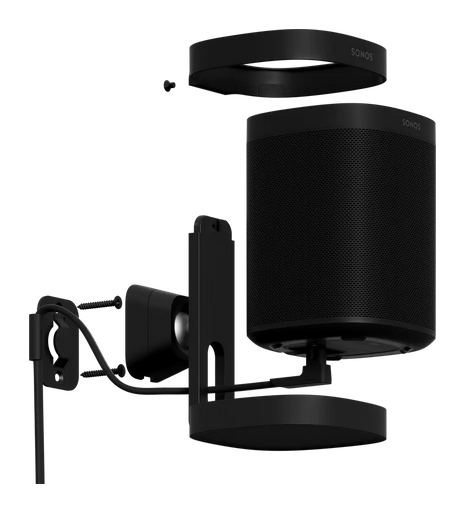 The photo shows how the Sonos speaker can be mounted to a wall using an available bracket. Download the Sonos S2 app which lets you control your Sonos system. It is available for both desktops and mobile devices.
TuneIn app and account
TuneIn is an app and website that streams broadcast radio and other streaming radio feeds for consumer use. Most of the content contains advertising. The content is not licensed for use in a commercial setting, but that's why you have a Brandi Music account from Easy On Hold! We will use TuneIn as a vehicle to make your custom stream available on Sonos.
Download the TuneIn App for mobile devices. The TuneIn desktop app will not allow you to add a custom URL, so we're going mobile. You will see ads for the "Premium" account type, but it is not required for our purposes. The following screenshots will walk you through the process for getting your Brandi Music custom URL into TuneIn.
Add a custom URL to the TuneIn App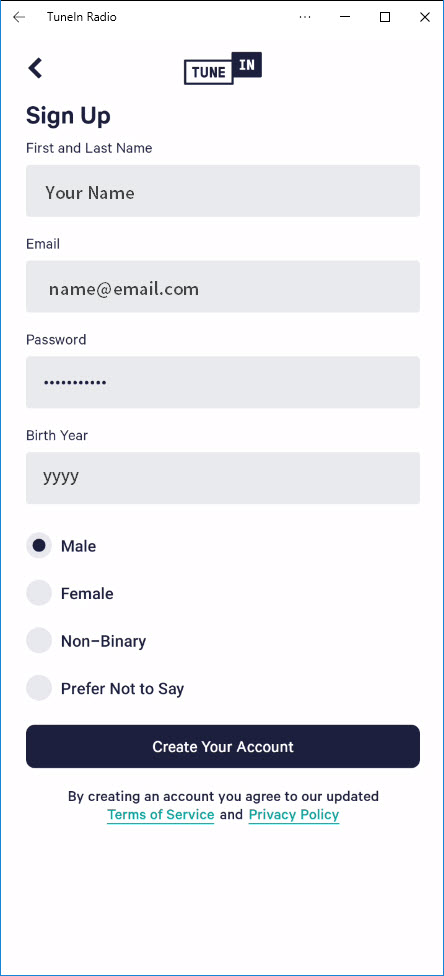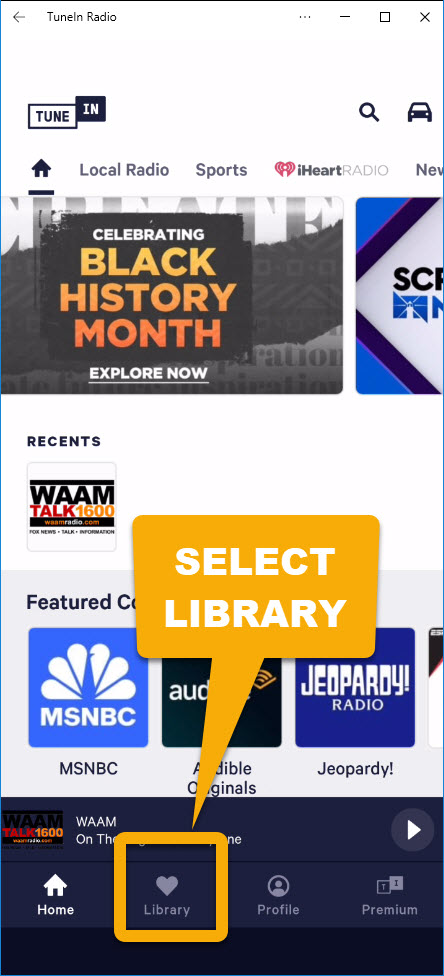 You'll see where to add the URL.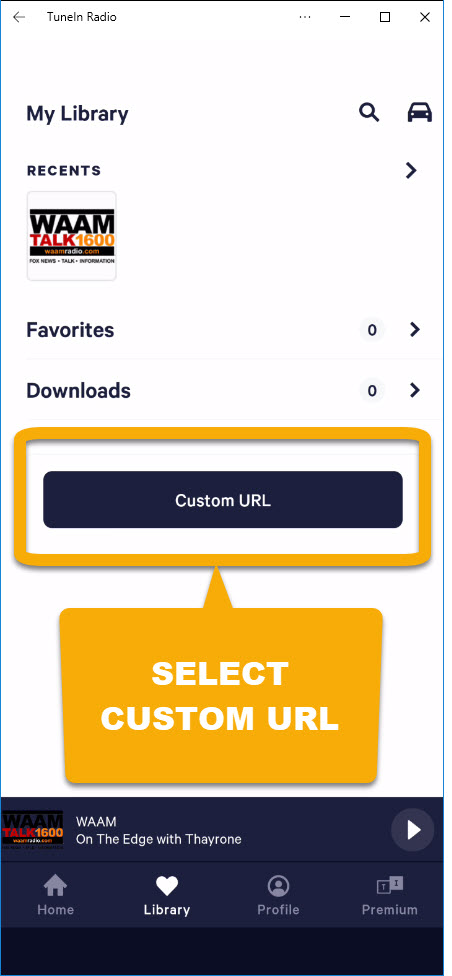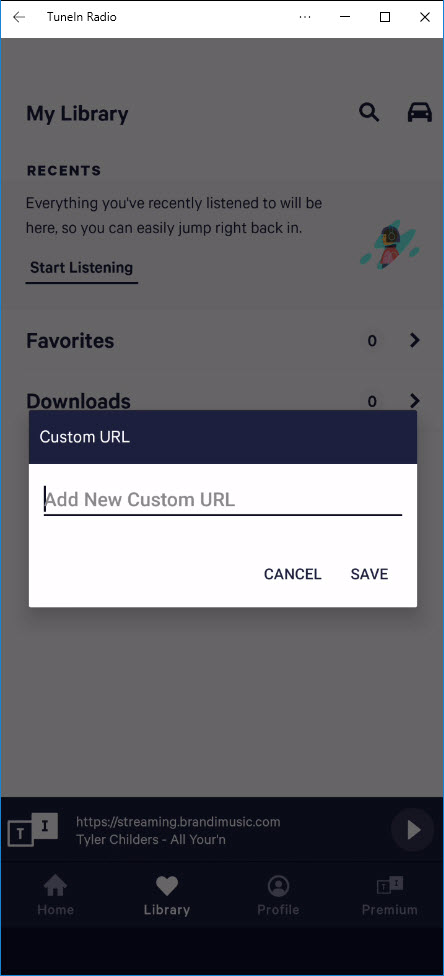 Obtain URL from your Brandi Music account
Now we've seen that TuneIn will let you create your own radio station by adding a custom URL. Your Brandi Music account, via easyonholdcloud.com, makes the URL available. Here's how.
Go to https://easyonholdcloud.com and enter your login credentials. If you need an account, go to https://easyonhold.com/contact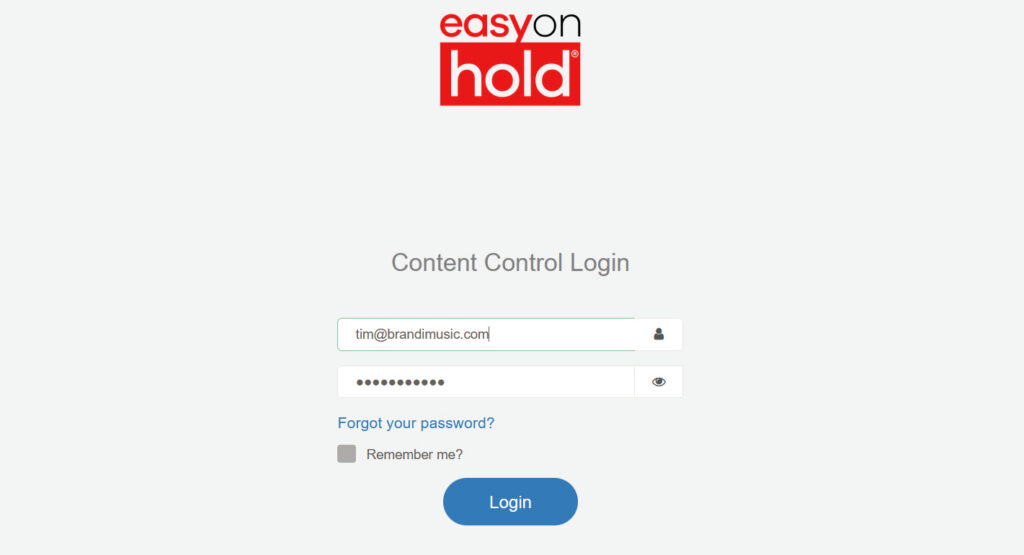 Upon log in, you'll see your stream URLs. Copy the URL you wish to use in TuneIn, and ultimately your Sonos app.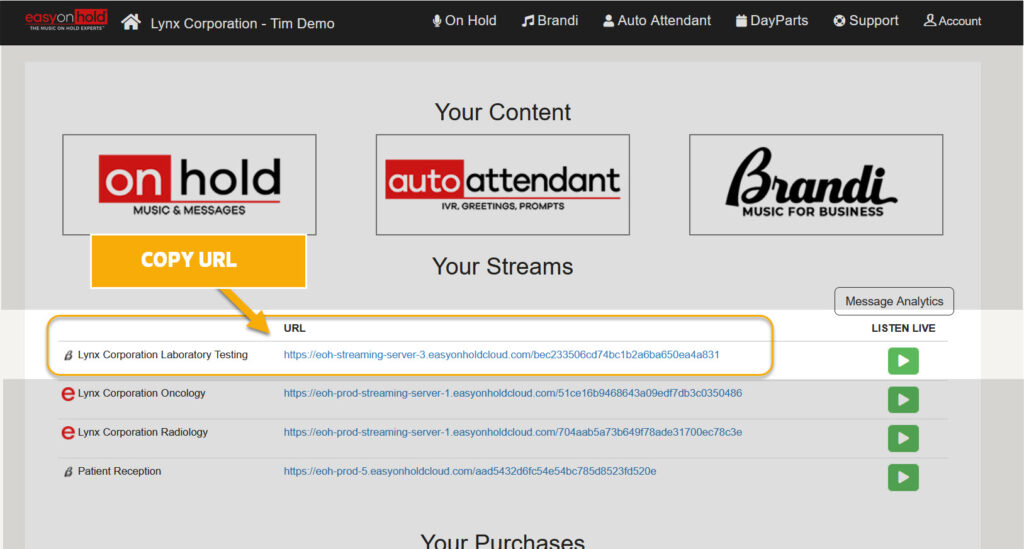 Paste the URL into the TuneIn app.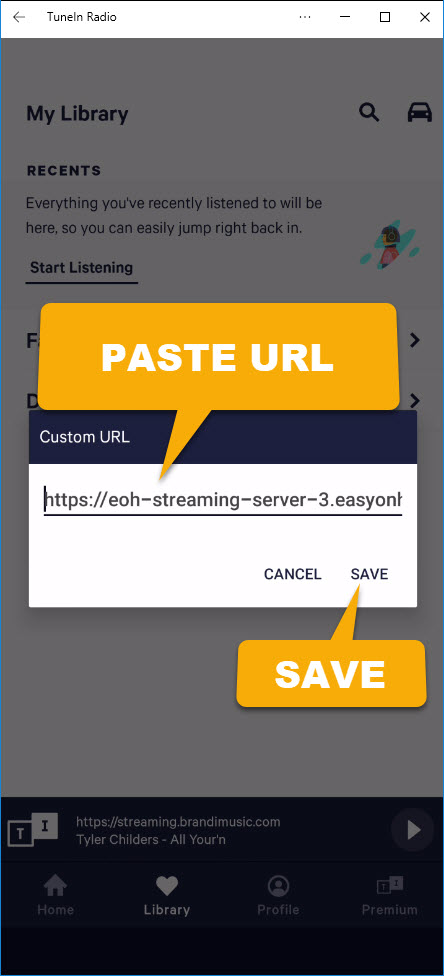 The TuneIn app will reach out to the URL and play it. You should hear music!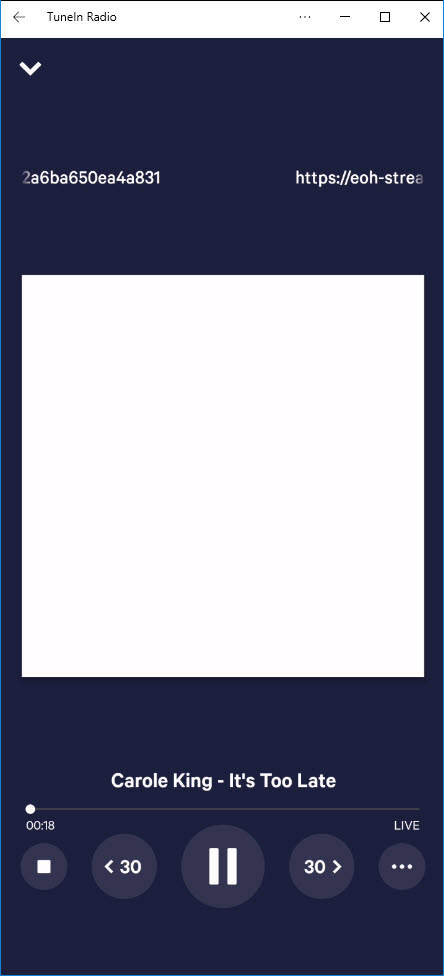 Here's how to play your custom TuneIn channel through your Sonos speakers.
NOTE: The connection of the Sonos app to your Sonos speakers cannot be done on a desktop version of the software, so once again use the mobile version of the app only, for our purposes. Follow instructions from Sonos to accomplish the following:
Set up Sonos S2 app
Your Sonos speakers and app must be on the same network
When you see the message "Unable to connect to Sonos," tap Let's fix it to get started. You can also go to the Settings tab and tap one of the prompts that appear: "Unable to find your Sonos system" or "Update your network settings."
Follow the instructions to connect Sonos to your new router or Wi-Fi network.
The process may require you to change some of the app settings and permissions; it could require a bit of patience. You might get a notice that a software update is available. The app will help you get that done. Thankfully, you'll only need to do the setup once.
Start playing your custom Brandi Music stream
In the Sonos app, select the music notes icon to browse for TuneIn. If the TuneIn app does not show, go to Settings > Services & Voice > + Add a Service. Scroll down to TuneIn and add it to your Sonos app. You'll need to sign in to TuneIn at this time, of course.
Once TuneIn is available, you can always click the music notes icon to find it. In the TuneIn lineup will be My Radio Stations. Your Brandi Music station is in there; just select it to hear your music through your Sonos speakers.
Search through Sonos support for further insights on using your Sonos speakers. We think you will enjoy streaming business music on Sonos, from Brandi Music and Easy On Hold.