How do I download my On Hold Message File? In this 60-second tutorial, you'll see how easy it is to combine individual hold messages (or topics) to create a single recorded phone on hold message recording. We created a short video to help you learn the on hold message file download feature from Easy On Hold.
Access professional voice recordings
Easy On Hold has been a message on hold company providing professional voice recordings for phone systems for more than 25 years. In retrospect, all on hold messages for business were delivered in the form of recorded audio files. Today, Easy On Hold is the leader in streaming messages on hold. Unfortunately, some business phone systems (platforms) allow only for hold recordings in the form of music on hold files.
Some hold message companies not only offer only audio files, but they will also send files in an email attachment, which is not reliable. Easy On Hold provides a customer portal called the Content Control Center, which neatly organizes each hold message. Users can decide which professional voice recordings meet their on hold marketing needs, then combine topics (hold messages) into one audio file.
On hold message file download instructions
Log in to your Content Control Center at https://easyonholdcloud.com
Click the on hold messages button to view all of your message on hold recordings.
Check the box to the left of each topic (recorded phone on hold recording).
Click the Actions button near the top of the list. It is a pull-down menu.
Select Combine & Download.
Next, the selected recordings will appear in a list with a text box where you will enter a unique file name, such as "Week of July 27 On Hold Messages File."
A text box below the list of messages will show, "Export File As," which is a dropdown list of audio file formats. Select the format that is appropriate for your business phone platform. Contact us if you aren't sure about the file format needed.
Video shows on hold message file download instructions
Business phone systems that use audio files for messages on hold
The Easy On Hold "Combine & Download" feature is designed for businesses using hosted VoIP services that require audio files to be loaded to the VoIP platform in the cloud.
A form of business VoIP services where the VoIP equipment, servers and services are hosted by the VoIP provider, which manages calls and routes them to and from the subscriber's existing telephony system and equipment.

NetExpress
Some of the popular VoIP systems that use files include:
3CX – A 3CX support team member says, "You can upload multiple wav files and playlists by navigating to Settings / Music on Hold. "
Comcast – The uploaded on hold message file will play from the beginning every time a caller is placed on hold.
Dialpad – You will need to contact your administrator. Audio file must be under 10MB.
Five9 – This platform requires audio in 8-Bit mu-law (uLaw) format. Audio plays from the beginning every time a caller is placed on hold.
Genesys Cloud – The new Easy On Hold Genesys Cloud App allows you to push approved on hold message content directly into your Genesys Cloud account.
GoTo Connect – There is a video on YouTube that shows how to change hold music in GoTo Admin.
NICE CXone – This platform uses 8kHz 8-Bit mu-Law (uLaw) files.
Ooma Office – On hold files can be .mp3 for this platform. Instructions online for Ooma Office On Hold Music How To Change Audio File.
Ring Central – Learn 5 quick tips for Ring Central Music On Hold
Zoom Phone – In Zoom you will need an admin to set up a Personal Audio Library and an Asset Library. See: How to customize audio greetings voicemail and hold music in Zoom Phone.
Vonage – Vonage says, "Included with every account are four standard hold-music options, the option to upload your own music or recording, and the ability to set and change the on-hold music your customers hear—all accessible from the Admin Portal." You will likely need to contact your Vonage representative to learn more about how to upload your Easy On Hold Messages.
Will the file play from the beginning every time a call is placed on hold?
Many hosted phone platforms play the phone-on-hold message recording from the beginning every time a call is placed on hold. It is not like listening to a radio station, where the caller hears audio "in progress." This creates a dilemma.
Callers may experience multiple hold times during an interaction with your business, meaning callers hear the same bit of audio every time. This repetition can be annoying.
If your business has short hold times, but several minutes' worth of on hold marketing audio, callers will not hear all of your content.
The solution to this problem is to use the Combine & Download feature in your Easy On Hold Content Control Center. Here's how. After selecting topics, you can re-order the topics to move the less-heard (but still important) topics to the beginning of the recording.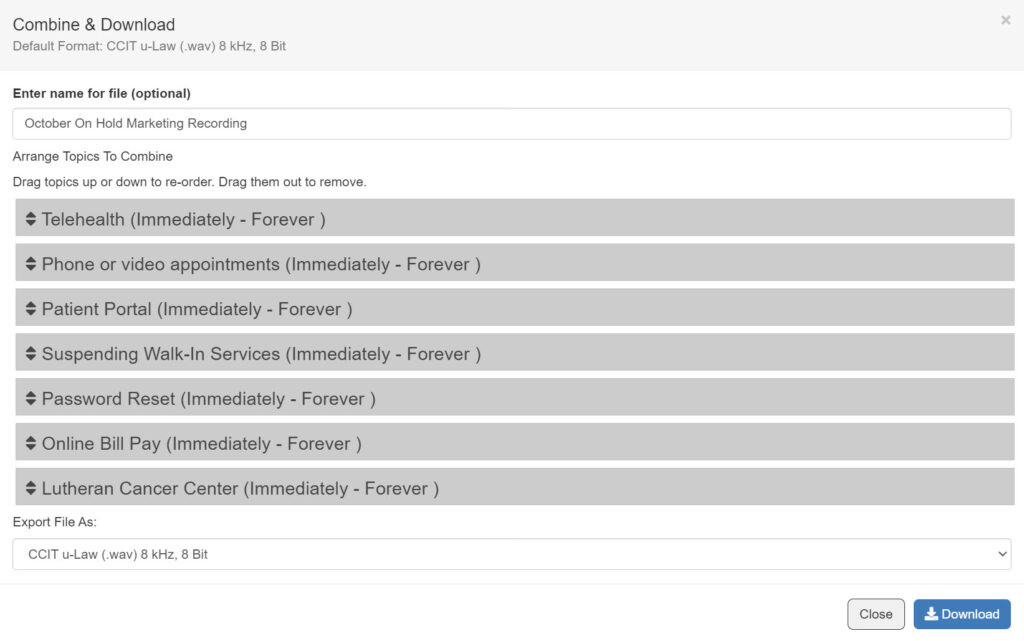 Phone systems that can use live streaming audio for messages on hold
Easy On Hold was the first message on hold company to introduce customer streaming messages on hold. Explore all of Easy On Hold's integrations.
Phone systems that can use live streaming audio for messages on hold include:
Avaya Aura Media Server
Bicom Systems
Broadsoft
Cisco CUCM, UCCE, PCCE, UCCX
Fortinet
FreeSWITCH
Genesys Engage and PureConnect
iPitomy
MiTel MiVoice
Nextiva
NetExpress
OnSIP
TPX
Asterisk
Vodia
Voneto
We discuss some of the phone systems that can use live streaming on hold messages here.